If You're in Pain, We're Here to Help
Low Back Pain
Shoulder Pain
Arthritis/Bursitis
Numbness
Sports Injuries
Herniated, Bulging or Degenerative Discs
Neck Pain
Headaches
Muscle Spasms
Leg Pain/Sciatica
Wrist Pain/Carpal Tunnel
And Much More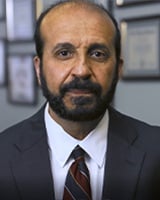 Dr. Andrew Azab is a chiropractor who serves Lubbock and the surrounding communities in TX .
He attended the State University of New York at Albany, graduating with honors with a bachelor of science degree in biology. He then attended the Palmer College of Chiropractic, graduating magna cum laude with his doctorate degree.
Dr. Azab practiced in West Virginia for 6 1/2 years. In 1995, Dr. Azab founded the All Family Chiropractic and Injury Clinic in Lubbock. Dr. Azab is a Diplomate of the American Academy of Pain Management and a Fellow of the American Back Society, multidisciplinary organizations consisting of doctors of chiropractic, medicine, osteopathy and dentistry, all dedicated to the study and treatment of pain and its causes. He is a member of many professional organizations including the American Chiropractic Association, the Texas Chiropractic Association, and the Pi Tau Delta Chiropractic Honor Society. He has lectured to fellow chiropractors on Vertebrogenic Migraines, (migraine headaches due to neck and upper back conditions).
Dr. Azab strives to further his knowledge in the field of chiropractic by attending numerous postgraduate courses. He is certified to perform impairment ratings by Parker College of Chiropractic and the Texas Medical Association. He holds a certificate from the Southeast Back Institute in managing disorders of the lower back. He is also certified in extremity adjusting by the Palmer College of Chiropractic. He is certified on the diagnosis and treatment of whiplash injuries by the Spine Research Institute of San Diego.